May 5, 2020 – At Home Learning
Share and Care is now "virtual" during our time apart. Each day of our learning is going to focus around a story and will have ideas for the following areas: literacy, math, art, helping at home, music and movement. We will also have an idea for a snack! At the end of each post we will include a daily Bible story and a link so you can get your Praise music jam on. If you tune in to our Facebook Live at 10am, you will also get a bonus idea for extra fun you can have in your very own living room!
Your teachers have been working on providing ideas for tthe nursery rhyme, Row, Row, Row Your Boat
Can you help fold your family's towels from the laundry? This is a great way for preschoolers to help their families.
Today we are going to work on recognizing words as combinations of letters. Practice "reading" the nursery rhyme by pointing to each word as you say it. Here is a copy of today's nursery rhyme if you don't already have one.
In these times it is great to get two uses out of one item. Upcycle those juice boxes into boats for your kids to sail! Thanks to Hands on as we Grow for the idea!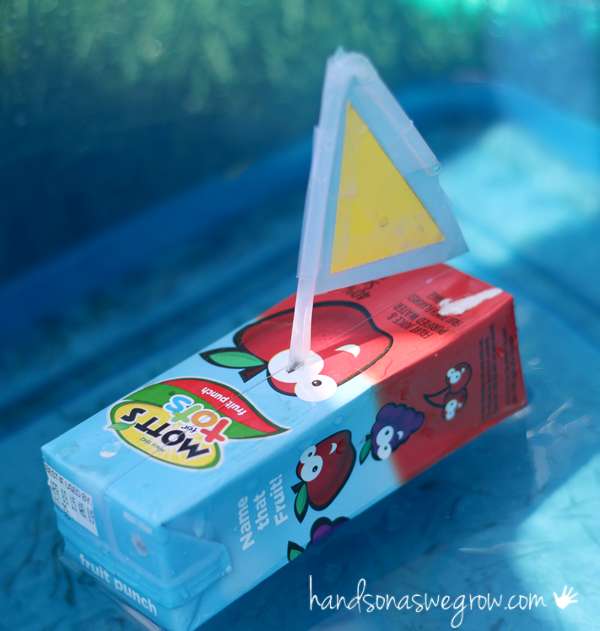 While you have your water tub out (we love to use plastic shoeboxes for our water fun at preschool), work on the idea of floating. These apple boats from How to do Easy are a fun related activity, but even just bobbing apples would be an amazing a-ha moment for most preschoolers. What else floats? What sinks?
Here's a series of great movement activities for you to try with your preschooler. Thank to The Inspired Tree House for giving us active ways to explore today's nursery rhyme.
Here's a great movement song from our favorite, Laurie Berkner. Shake Your Body Down!
This is a great boat snack that your kiddo can put together all by themselves! Similar to our snack from Where the Wild Things Are, this boat adds a crunchy layer of yummyness! This one comes from Childhood 101.
Work on volume with this water filling game at PBSkids.org – Can You Fill It.
Current Share and Care Families – make sure to check your e-mail for printable additions to today's curriculum.